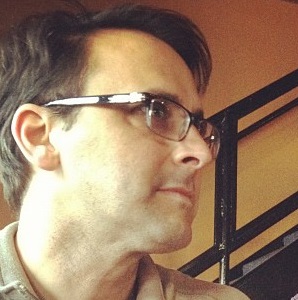 Magus Magnus' work sources poetry and "the poetic" as central both to the extremes of interiority (thought, philosophy) and exteriority (performance, deed).  Born in L.A. in 1967, Magnus' privileged upbringing in Southern California did him no favors, but brought him lasting distrust of materialistic veneer and, by his teen years, charges of "malicious mischief" from the Beverly Hills cops. He lives only for love and to drink from the Enchanted Spring.
Books include The Re-echoes (Furniture Press Books), Idylls for a Bare Stage (twentythreebooks), Heraclitean Pride (Furniture Press Books), and Verb Sap (Narrow House, now an imprint of Publishing Genius).
Magnus' Poets Theater work has been presented in Washington D.C., Baltimore, Minneapolis, New Orleans, and New York – venues include the Kennedy Center, Washington D.C.'s The Shakespeare Company's Sidney Harman Hall, the Capital Fringe Festival for a "Must-See," 5-Star, "Best of the Fringe"-rated run, and the atrium of the U.S. Patent and Trademark Office building in Alexandria.
His work appears in online and print journals, as well as in anthologies, including Pearson Longman's university-level textbook, Literature: An Introduction to Reading and Writing. His voice composition for outdoor speakers, eckClogs, was a featured sound installation at D.C.'s Canal Park, later published as a chapbook with recordings. Among spoken word recordings, his piece "Those Who Last…" is available on iTunes with Fuse Ensemble's Big Skate album. He was a 2016 finalist for the Gertrude Stein Award for Fiction and his 2017 chapbook, Of Good Counsel, is one of 100 (& counting) published by Locofo Chaps and sent to the White House in poetic protest during the first 100 days of the current administration. Apropos of resistance against internal and external oppression, Magnus' ebook, The Free Spirit, is available exclusively on Kindle – a work of ecstatic reaching towards poetry and radical liberation.
Current works in progress are a book on the ancient Roman emperor Heliogabalus and a feature film project (with screenwriting partner Robert Zweig) in early development stages.
Magus Magnus lives in the Washington D.C. metro area with his wife, Manya Magnus, their daughter Hero, and their son Gryphon.
"I am syrinx, panpipes, the vocal organs of birds!"